Mary Sawyer, CCIM
---
Ms. Sawyer is the CEO of Real Estate Cashflow Network Inc., the Broker of Portfolio Properties, Portfolio Funding and Portfolio Property Management Companies, as well as Smart-Plex.. She also is managing member of Synergy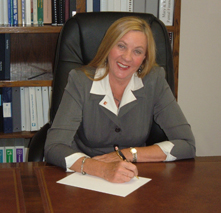 Development Company, and broker of Reverse Mortgage Associates, Inc.
She has offices and clients in numerous California cities including Bakersfield, Fresno, San Francisco, San Jose, Santa Barbara, Ventura and La Jolla and does business throughout the United States selling investment real estate. She also takes clients into new emerging markets across the United States through their network of CCIM brokers.
She is a CCIM (Certified Commercial Investment Member), which is the highest designation proffered in commercial real estate; a graduate of CSU Bakersfield and she writes and teaches seminars and workshops on the topic of real estate investing: The Market Timing of Investment Real Estate; 1031 Tax-Deferred Exchanges and a DRE approved course on "The Cash Flow Analysis of Commercial Real Estate".
Ms. Sawyer is Asset Manager to several of her clients' portfolios. She advises them on the strategy for their portfolio and individual properties, when to take profits and where to place them.
Her clients are from all walks of life, Mr. & Mrs. Middle America to professional athletes and entertainers. She also owns LA Day Productions.
She does investment counseling and coaching. She is also a certified facilitator of Robert Kiyosaki's "Cashflow 101 Game event", and can facilitate those games in a public venue.
She has received the "Businessman of the Year Award for California" from the National Republican Congressional Committee's Business Advisory Council.

She is an avid sailing enthusiast and snow skier as well as a Harley owner.

"God did not create us to work, but to play and re-create."


Contact Information
---
4420 Easton Drive, Suite 101
Bakersfield, CA 93309
Phone: 661-282-2246
Toll Free: 866-282-9041
Fax: 661-631-2788
Email: mary@portfolioproperties.com
DRE License #01355272